Turas – Éire Fhíorúil sa Cheoil / Virtual Ireland in Music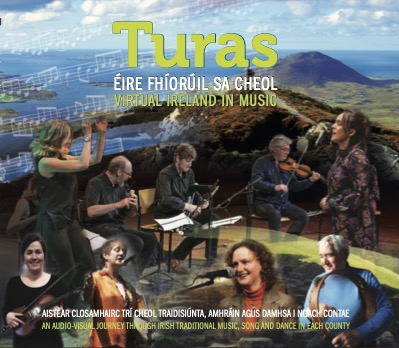 This DVD and movie is a Covid-era response to the absence of live performance. It is a  TV-style documentary of still images with music, linked sequentially in Traditional tunes named for each county on the island of Ireland and its Diaspora regions of England and the USA. The imagery and music embody hundreds of the key elements with which Irish music engages, as found among the data in the encyclopedia Companion to Irish Traditional Music . These are presented as a county-by-county, old and new, tunes/song repertoire linked to places by visual images.
The music is played by Fintan Vallely, Gerry O'Connor and Tiarnán Ó Duinnchinn – a 100-minute performance, with sean-nós and Irish-language song by Máire Ní Choilm, Róisín Chambers and Karan Casey, and ballads in English by Karan, by Stépahie Makem, Maurice Leyden and Róisín White. Sean-nós step dance by Sibéal Davitt powerfully accents the music with percussive rhythm, as does 19th-century tambourine played, and made, by bodhrán pioneer Seamus O'Kane.
Visual imagery is used as the narrative for the music to give information effortlessly, to avoid the intrusion of spoken language and translation issues – a continuous stream of stills, each of them related to the music being played at that moment. The images are of instrumental musicians, singers and dancers, performance and scenery. These are mainly by photography by Jacques Piraprez Nutan, he an award-winning artist who has contributed covers to many Irish albums, including Martin Hayes, and had worked with Fintan Vallely on other photographic/music projects, notably the 1998 music-interviews book The Blooming Meadows, and the 2011 biography of the Leitrim fiddler, Ben Lennon, The Tailor's Twist. Superb landscapes by Sligo photographer  Gareth McCormack bring a sense of dramatic scale, and images by other artists fill out an island-wide coverage.
Turas is both an audio-visual parade and a comprehensive inventory of Irish Traditional music, song and dance in its places and communities. The music covers all tune-types; its images demonstrate the artistic drive, achievement and contemporary and historical engagement among Irish Traditional music performers, facilitators, teachers and consumers. The c. 700 pictures denote repertoire, social contexts, gender, age, historical era, political and religious partialities, organisations, regional topography, urban and rural, teaching, publication, promotion, broadcasting, media, celebration and honours. The artistic purpose of this is to culturally and geographically acknowledge and celebrate the music's scale, open-ness, modernity and links to the past, roots in Ireland and trans-national appeal – the aesthetic and emotional attraction of Traditional music as a contemporary artform.
With support from Culture Ireland, this has been been performed live since 2013 as an illustrated concert titled 'Compánach – Irish music in its places'. It has been progressively developed through performance at festivals and arts centres in Ireland, Britain, Belgium, France, Luxembourg and Australia, latterly at Fleadh Ceoil na hÉireann in Drogheda, 2019.
Now, in response to live-gig cessation due to Covid, this documentary-style movie version has been made possible by support from An Comhairle Ealaíon, The Arts Council of Ireland, and the Arts Office of Louth County Council.
The Turas video
The full video is available for viewing in two formatsL
1/ As both a single-unit, 110-minute concert, online, and (After Jan 1st, 2022) as 28 distinct county- and subject-group units, both on Vimeo video.Ideal for more casual viewing, or where there is a strong broadband signal
2/ It is also available as a DVD video disc which comes with notes. The DVD is ideal for areas with weaker signal, for teaching situations where stop/start is easy, and for those without computer equipment.
All formats are available  by post direct from the Turas project, or from Bandcamp.