Ón gCos go Cluas – From Dancing to Listening
Voices from the North Atlantic Fiddle Convention conference held in Derry City, 2012
Edited by Liz Doherty and Fintan Vallely
303 pages, ISBN 978-0-9511569-9-5
Traditional music has moved from a primary purpose of servicing dance, to expressing artistic preference. Further, the outer fringes of traditional melody-making now shade into other forms – jazz, contemporary classical, rock and pop – and indeed towards the antithesis of genre, so-called 'world' music.
The chapters in this volume reflect on this visible re-orientation, exploring North Atlantic musics in terms of the shift of folk cultures' interest from social process to aesthetic product.
Ón gCos go Cluas heard the voices of more than a hundred speakers from all regions of the North Atlantic, each of them a musician or music teacher; they covered many aspects of Traditional music in addition to the fiddle. Thirty two of their voices are published here.
Liz Doherty, editor of The Cape Breton Fiddle Companion, was NAFCo's festival organiser for 2012; Fintan Vallely, editor of Companion to Irish Traditional Music (1999, 2011, 2021) was the academic co-ordinator of that year's conference. Both had already played key roles in two significant earlier conferences on Irish Traditional music - Crosbhealach an Cheoil - in 1996 and 2003, the first of which dealt with 'Tradition and Change', the second with 'Education and Traditional Music'. Both books of papers from these events are available online.
The NAFCo event and the papers in this volume complete the ambitions of the Crosbhealach series by now dealing with the changing role of Traditional musics.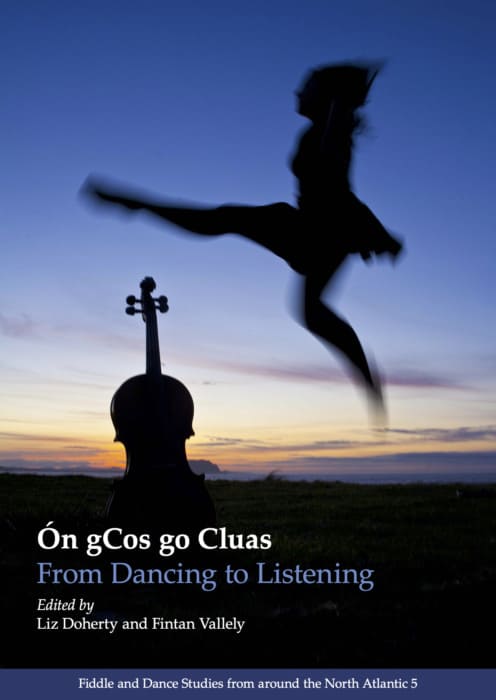 Hard-copy book with 303 pages of text and photographs, colour and black & white, available by post – different postal rates to different regions:
CONTENTS
Introduction
 Liz Doherty and Fintan Vallely. ix
Fiddlers, dancing, art and utility: what isn't traditional?
Neil V. Rosenberg. 1
'The concert era' – innovation in Hardanger fiddling around 1900
Håkon Asheim. 14
Square sets as 'folk' dance in Cape Breton community life
Jørn Borggreen. 25
Néillidh Boyle: replacing traditional concepts of storytelling in exploration of the acoustic art 
Katie Boyle. 30
Participatory music in the Irish Gaeltacht 
Éamonn Costello. 38
Revival of 'crooked' fiddle tunes in the performance of contemporary Quebec traditional 
music
Jean Duval. 48
The great divide: recent trends in the technical approach to the fiddle in Norway
Anon Egeland. 58
On first hearing: the John Junner Collection of Scottish and Irish music recordings Stuart Eydmann. 66
Galician fiddle versus tambourine
Alfonso Franco. 76
The status of the master-fiddler in eighteenth-century Scotland
Ronnie Gibson. 86
Foot-oriented fiddling among the Mississippi Choctaw: R. J. Willis and the house dance Chris Goertzen. 92
Joe Holmes: the singing North Antrim fiddler
Len Graham. 104
Truth, beauty and authenticity in folk music
Ingrid Hamberg. 108
Follow the band: playing old-time tunes in new performance contexts
Gregory Hansen. 117
More than buzzing bluebottles: new contexts for Irish céilí bands
Daithí Kearney. 126
Traditional style: the student singer and the folk industry
Sandra Kerr. 136
'Listen how the fiddle cries and laughs': traditional Lithuanian fiddling in Soviet-era Siberia 
Gaila Kirdienė. 141
Arranging traditional Norwegian Hardanger fiddle tunes 
Ragnhild Knudsen. 154
New directions in contemporary fiddle playing in Norway 
Gjermund Kolltveit. 160
The Donegal 'Highland' tunes: origins and movement of a dance-driven genre 
Caoimhín MacAoidh. 168
A favourite Scotch measure: the relationship between a group of Scottish solo dances 
and the tune 'The Flowers of Edinburgh'
Mats Melin. 177
'Fiddle icons confidential': the making of a portrait
Nicole Murray. 188
'Bhíodh muid ag damhsa go maidin': dance, music, and community in Árainn
Deirdre Ní Chonghaile. 195
Scottish fiddle music in Australia in the twentieth century
Emma Nixon. 207
The fiddle as a symbolic creative therapeutic tool in music therapy
Josie Nugent. 213
Off the record: Irish traditional musicians and the music industry
Leah O'Brien Bernini. 218
Change and stability in Irish-American-Newfoundland fiddle tunes
Evelyn Osborne. 222
Cape Breton 'crossroads': cultural tourism, and the nature of 'traditional'
Janine Randall. 236
The FiddleLights project: an artist's recording of bow-hand movements in fiddle tunes Elisa Sereno-Janz. 247
Constraint and innovation in the traditional fiddle repertoire of Cape Breton
Sally Sommers Smith. 258
'Jack is yet alive': fiddle lessons in Shetland Isles schools, 1973–1985
Pam Swing. 266
Examining the Irish connection in the southern American fiddle repertoire
Paul Wells. 275
Traditional music has moved from a primary purpose of servicing dance, to expressing artistic preference. This is particularly so for the fiddle, one of the most versatile, accessible and universal of acoustic instruments. The conference will explore its current popularity in North Atlantic musics in terms of the shift of folk cultures' interest from social process to aesthetic product. Recording played a large part in this redirection, offering musicians opportunity and stimulus for deeper appreciation and analysis. It led to expanded access, to scale and diversity in repertoires, to striving for excellence and a virtually boundless potential for expansion. Recording liberated music from the occasion-specific time-slots formerly defined by social dance. Dance responded differently, more deeply directed by social and economic factors and era-specific fashion shifts, yet vibrant dance practices are still part of most North Atlantic traditional musics. But at its outer fringes, traditional melody-making now shades into other forms – jazz, contemporary classical, rock and pop – and indeed the antithesis of genre, so-called 'world' music.
Is Alan Lomax's 'cultural grey-out' to become reality?
Will traditional fiddling decompose into a cloud of intermeshed idioms and clichés expounded with fabulous but empty virtuosity?
Ón gCos go Cluas set out to address the process, product and the potential of this progression. Papers were requested on all aspects of the dancing-listening continuum with the emphasis being on transformation rather than the static, and on both the consequences and potential of music's independence from dance, for participants and audiences alike. Topics engaged with:
composition and performance – themes, direction and personality; cliché, quotation, standard riff, originality; superficiality, dumbing down, cheap tricks; sophistication, challenge, complexity; arrangement and orchestration; the Scottish mixed-tempo set
the avant garde – 'world' music: 'a sinister globalisation? Eurovision values; the Pop fiddle; tone and tempo; gender and sexism in PR.
revived fiddle cultures - social practice, cultural relevance; revision and rethinking; imagined and borrowed repertoires; stylistic analysis; philosophising 'the folk'; collection and collections; the fiddle as icon.
pushing to the limits – the fiddle family in Traditional musics; old and new forms: three, four - or five strings? The bow, the bridge, the fingerboard, the peg box, chin rest; traditions, innovations: Stroh and electric fiddles.
the historic fiddle –images in stone, in print, in painting and text; O'Curry's Irish bow; from plucking to bowing; fiddle bands, town fiddlers; the hurdy gurdy and fretted viols.
recording – setting standards or undermining traditions? The birth of analysis; single-tunes versus the '78' selection; the 'standard' tunes set.
fashion - the Pop aesthetic; from chest to chin; resonating strings; rapid versus relaxed, decorated versus plain; studio aesthetics; acoustic versus mediated; superstar fiddlers
accompaniment – in lieu of the dancer? Transformational? Killing or kindling? Dumbing down or enhancing? Plucked or struck? Guitar versus bouzouki; the piano: vamp or vampire? Fiddle and flute, fiddle and pipes, fiddle and accordion, fiddle ensembles
fiddle and dance - no dance - no rhythm? The rise of beat; dance detail and music decoration; the music phrase and dance movement; the integral melody-dance (set dance). The dancing fiddler.
fiddle and song – the singing fiddler; the fiddle accompanist; harmony, parts and counter melody with song.