Irish-American Song Sheet Collection Catalogue
The Princess Grace Song-Sheet Collection in Monaco
This is an archive of printed Irish-American song-lyrics and music sheets from the years c. 1840-1940. The music they contain is not 'Traditional' as such, but has a strong Irish stamp and idiom. These were designed for home and public entertainment in the era before the advent of radio and recordings, a time when all music was necessarily 'live'. Song-sheets were to music then as records and CDs became later. As a trend, however, the song-sheet persisted well into the era of public broadcast music and easily-available, '78 rpm disc 'records', dying out only after WWII; tens of thousands of titles covering all styles of music were issued over the course of a century. The Monaco collection was built up by Michael E. O'Donnell of Philadelphia in the early-to-mid twentieth century, and purchased by Grace Kelly in 1977. It has 1,099 discrete song-sheets, but many of them have multiple copies, making the Collection up to 1,682 sheets in total.
The sheets are mostly of a standard size (c. 24cm wide by c. 31 high) printed on a single folded page as their cover, with, typically, an extra two-page insert, or often with from four to six inserted pages. Since these were songs to be performed by a singer and/or a pianist, the sheets have the music notation for both piano and voice, with lyrics printed below the music, matched to it. The covers on the 1800s sheets are typically black on white, but on the 1900s material many are multi-coloured, often with striking text or graphics.
The collection was eventually housed in the Princess Grace Irish Library in Monaco, from time to time casually perused by visitors, some out of curiosity and cultural interest, others for research; the Administrateur, Judith Gantley, occasionally drew on the better of the Collection's graphics for illustration on promotional materials for Library events. They were shown to me by Judith while I was on a research residency there in 2008, at which time, taken by the graphics, I photographed the covers, and resolved to consider cataloguing them. In 2017 Judith began re-organising the sheets, and the following year I was taken up on an offer of cataloguing them and working out a classification system. This was done physically and digitally in early 2019, and produced in a book format in March, 2020, with additional index volumes.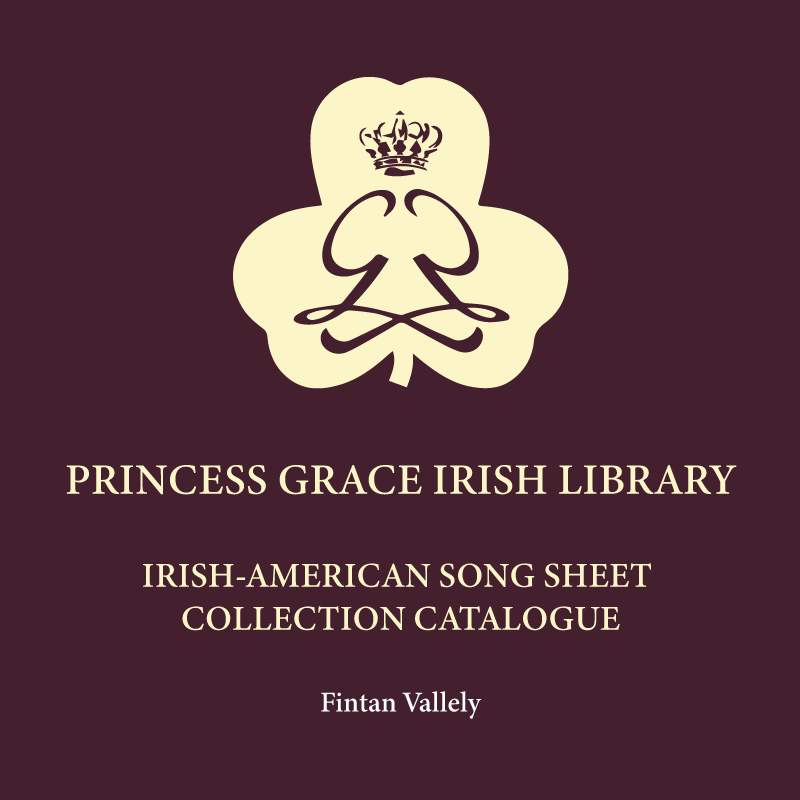 Volume 1 is the main catalogue, with colour thumbnail-images of each of the 1099 discrete sheets, alphabetically organised by the full song-title. Along with the image are the names of songwriter and music composer/arranger, the year of publication, publisher and city and country of publication. Each of these entries also carries the book-number, the song's code number, and the alphabetic grouping in which the song is - locational information which relates the catalogue database to the actual bound and preserved documents. Each entry has also a rough estimate of the song style and lyric focus, as a pragmatic guide for consultation, rather than being a precise definition.
For research purposes, seventeen other individual indexes have been generated from the digital information. These order the song-sheets in different ways to highlight data such as gender and nationality of the lyricist and composer deduced from their names, song style and subject, and publisher information. Other categories will be added to the database so that the material can be analysed in different ways, such as by cover image, key words in the song titles, first lines of songs, etc. The song style and lyrics subject will also be refined, online, and a fully-digitised format of all sheets will be completed in 2021.
The Collection will be kept intact, as it is, and there is no plan to expand it.
Volume 2
Lyricists:
Index 1/ All lyricists
Index 2/ Female lyricists
Index 3/ Male lyricists
Index 4/ Irish-named lyricists and writers
Index 5/ Irish-named lyricists and writers by gender
Music composers / arrangers:
Index 6/ All music composers and arrangers
Index 7/ Music composers and arrangers - female
Index 8/ Music composers and arrangers - male
Index 9/ Irish-named music composers and arrangers A-Z
Index 10/ Irish-named music composers and arrangers by gender
Volume 3
Publisher information:
Index 11/ Publishers A-Z, with country and city
Index 12/ Publishers, by country and city A-Z
Songs and their subject matter and style:
Index 13/ Song titles A-Z, with subject and style
Index 14/ Songs: by subject A-Z, with style
Index 15/ Songs: by Style A-Z, with subject
index 16/ Song titles by year
index 17/ Lyrics writer and song title by year